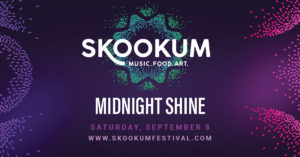 Midnight Shine, the root-rockers who have been lighting up the music world all the way from the James Bay in remote Northern Ontario, will wrap a successful touring season with a pair of highlight shows on Canada's West Coast.
First, they'll perform at the first-ever SKOOKUM Festival in Stanley Park, where a spirited and eclectic menu of authentic artists from the West Coast, across Canada and around the world, will take to Vancouver's favorite urban park with diverse and intimate performances.
September 8 – Vancouver BC
SKOOKUM Festival
Stanley Park
Forest Stage
2:40pm
Then it's on to "The Island" and their first-ever show in Nanaimo. Midnight Shine will kick-off The Port Theatre's 2018/19 Spotlight Series, a nationally-acclaimed presentation series that showcases some of the most exciting touring artists on the scene today, and brings artistic excellence and authentic experiences to Nanaimo audiences.
September 9 – Nanaimo BC
Spotlight Series
The Port Theatre
7:30pm