Toronto-Bound From Moose Factory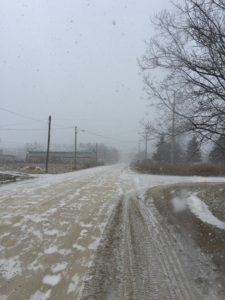 Living in Moose Factory near James Bay has its travel challenges, especially around spring break up of the Moose River. During this time, because we live on an island, the river ice is melting, and its too dangerous to drive snow machines or trucks on the ice road.
I had to travel to Toronto last weekend, before the start of Canadian Music Week. We had rehearsal space booked, and also had several media interviews lined up in advance of our CMW showcases. In order for me to get off the island, my only choice was to charter a helicopter and be airlifted to Moosonee, where I have to go to catch airplane flights. And I wasn't even sure if the helicopter would be flying, because it was snowing at the time, and it's often grounded when it snows!
The helicopter pilots and crew made sure I got to the airport on time. The two connecting airplane flights went well, too, and after a long day of travel, I was excited to finally touch down in Toronto – one of my favourite cities. It has so much to offer in terms of great live music, entertainment, restaurants, and a bustling energy. It's awesome to be here, be part of Canadian Music Week, and to feel like you're part of one great city as you walk its streets and use its transit system.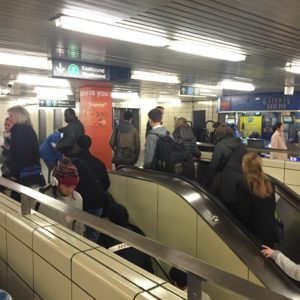 The subway and streetcars make it easy to travel around, and quickly, too. Coming from a small town and entering the underground subway is a great way to feel like you're part of the city and its culture. I've met helpful people willing to offer directions if you're not quite sure you're on the right line.
Toronto is very different from Moose Factory, that's for sure. The photos here… one one taken on my street just last week, showing what the weather was like when I left Moose Factory. The other is a photo of the subway at Bloor and Yonge – a definite contrast to where I live.