Taking The High Road: New Album Set To Reach New Heights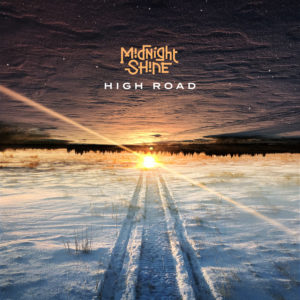 It's a little bit cliché to say it's been a long road for Midnight Shine to get here. It's a little bit ironic, too, considering they come from places you can't even get to by roads…
The roots/rockers who have been lighting up the music world all the way from remote Northern Ontario are releasing their highly-anticipated third album, HIGH ROAD, on February 23. It's an album about resilience, something Adrian Sutherland knows firsthand.
"Growing up in Attawapiskat was a real challenge. Kids can be cruel to each other, and I was bullied a lot," says Sutherland, who'd seek escape though music, or by spending time out on the land, learning about his Mushkegowuk Cree culture and traditions. "Resilience is something I had to learn at an early age, and it became part of who I am."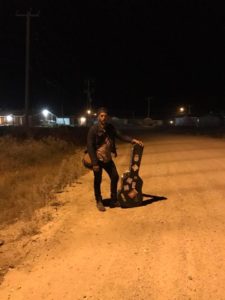 "Living in Attawapiskat today, as an adult with a family of my own, requires even more resilience. There's no hiding the truth about life in the North, and the fact that many of our communities are in a horrible state. We face frequent hardships, and struggle every day to find our way through it all. But we still have a choice to feel hope, and to empower ourselves to find peace."
"A lot of the songs I'm writing these days keep coming back to being resilient, and not giving up. Through my music, I hope this message will resonate with people from the James Bay coast, and other isolated places. This album is for them."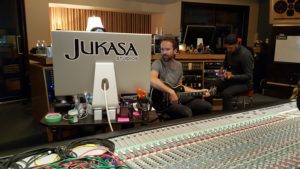 ABOUT HIGH ROAD
Two producers worked on HIGH ROAD, helping take Midnight Shine's music and talent to new places. John-Angus MacDonald (The Trews) recorded seven songs at Jukasa Studios in Ohsweken, Ontario, and Tim Vesely (Rheostatics) recorded two tracks at The Woodshed in Toronto. The album was engineered by Darren "Jeter" Magierowski and Jill Zimmermann, and mastered by Grammy-nominated João Carvalho.
Something new for Midnight Shine is adding touches of cultural embellishments to their music. On the HIGH ROAD album you'll hear hand-drumming, lyrics sung in Cree, even a little creatively-placed pow wow. The result is a roots/rock band pushing musical boundaries and boldly taking new strides, while staying true to who they are and where they come from.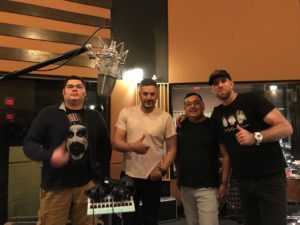 In addition to Sutherland, Midnight Shine's bassist Stanley Louttit, and lead guitarist Zach Tomatuk, musicians on HIGH ROAD are Chris Gormley, Zach Sutton, Jesse O'Brien, George Gillies, Tim Vesely, and John-Angus MacDonald. The album was produced with assistance from Dreamcatcher Charitable Foundation, and is being released on the band's own label, Midnight Shine Music.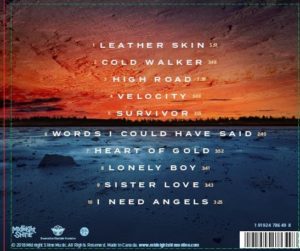 The album artwork for HIGH ROAD portrays pristine wilderness landscapes from the James Bay region. Nick Perreault created the stunning design, using photographs shot out on the land by Sutherland's wife, Judy. The 12-page booklet might best described as simply gorgeous, and definitely worth the view.
SEARCHING FOR A HEART OF GOLD
The lead single is an exceptional cover, bringing a timely new sound to Neil Young's timeless classic. Midnight Shine's version is distinctly different, yet honours the heart and soul of the original. It was produced by Midnight Shine, along with John-Angus MacDonald. (FUN FACT: Listen for Chris Gormley from Big Sugar on drums!)
HEART OF GOLD the single will debut on The Strombo Show on CBC Radio 2, February 18. HIGH ROAD the album will receive its exclusive debut on CBC Music First Play, February 15-22. The full album will be available online, everywhere, on February 23.
"This is quite a fascinating version of Neil's song. Love the First Nations' feel of it. Very cool." — John Einarson, Neil Young Biographer & Music Historian