Strumming To The Beat Of His Own Drum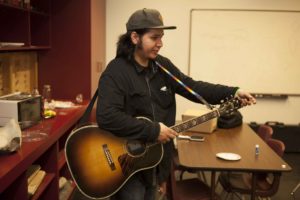 Midnight Shine drummer George Gillies grew up in the James Bay community of Fort Albany, with music a major part of life. But his first instrument wasn't drums.
George initially learned to play guitar in Grade 6, when his teacher decided that the entire class be taught guitar by a nun. Guitar seemed to come pretty natural to George, and he picked it up quickly. Soon he was asked to perform during church services, and for the next few years he played guitar for Sunday mass and other functions.
Drums entered George's life when one of his friends suggested he take up percussion class. Since a bunch of his other friends were also joining, George also joined – and discovered a real talent for drums.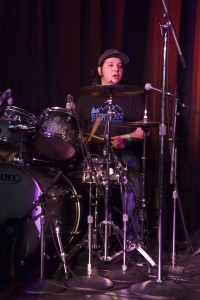 George's musical influences came from the rock genre – whatever was broadcasting on Wawatay Radio, or whatever cassette tapes he could get his hands on.
Today, George might actually hear himself on Wawatay Radio – since the station plays a lot of Midnight Shine music, including the single Northern Man, which spent three weeks at #1 on the National Aboriginal Music Countdown.