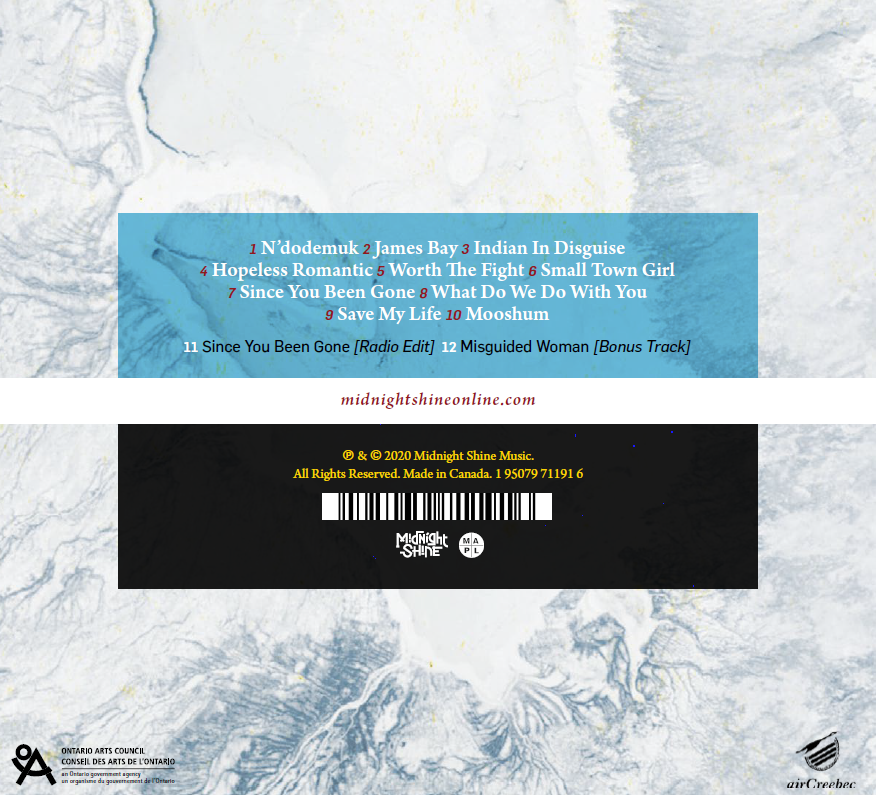 James Bay, Midnight Shine's latest album, features fully remastered tracks from the band's debut album. The album also includes new artwork of the namesake region, a Radio Edit of Since You Been Gone, and a bonus track of the previously unreleased Misguided Woman, one of the first songs Adrian Sutherland ever wrote.
Listen to Since You Been Gone HERE
Listen to Misguided Woman HERE
N'DODEMUK
James Bay opens with N'Dodemuk, a special greeting by Sutherland in his Mushkegowuk Cree language. Some of the stunning photography taken by Sutherland's wife Judy during the annual spring goose hunt on the James Bay has been compiled into a little movie. You can watch it here:
LIVE FROM ATTAWAPISKAT
Adrian Sutherland is performing short live-stream sessions from his 'rustic home studio' in Attawapiskat all summer long. Join him Thursdays at 2pm ET as he plays a song from the James Bay album, answers fan questions, and maybe plays a bonus song or two.
ABOUT THE ALBUM
James Bay brings the roots-rockers full circle, right back to where they started. It was 2013 when Adrian Sutherland from the Cree community of Attawapiskat released his debut album with newly-formed band Midnight Shine. This solid collection of songs written by Sutherland provided the foundation needed to start pursuing his music dream from the Far North. Now, these songs are returning to the forefront once more.
"My music is about who I am and where I come from," Sutherland says. "I've always wanted to share about my life through music, and my first album has many songs worth revisiting, especially in the context of today's uncertain world. With everything going on around us, this seems like a good time to get back to the basics of a more simple life, and the universal themes reflected in my early music."
Title track James Bay pays homage to Sutherland's remote home region in Northern Ontario, while Mooshum honours the memory of his grandfather. Indian In Disguise makes a powerful statement about losing one's identity, and Save My Life reveals the darkness that comes with addiction – a struggle that Sutherland (now sober 20 years) has known firsthand. On the lighter side, Hopeless Romantic is a love song about secretly yearning for someone who "don't even know my name," while Small Town Girl paints the picture of someone who's "got a simple smile, one of a kind."