Midnight Shine Signs To United Talent Agency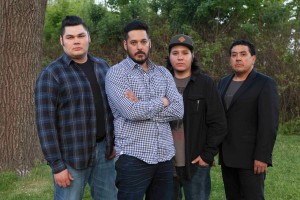 Midnight Shine are pleased to announce they'll be working with agent Ralph James and United Talent Agency out of Toronto to help put their music on the map.
Hailing from the James Bay region, Midnight Shine is turning heads with a sound that seamlessly mixes roots, classic and modern rock. When Ralph James first heard the band's single Since You Been Gone from their debut self-titled album, he knew they had something special. "I heard one track and thought, if these guys play live as well as they sound on the recording, I think we're on to something here," says James. "And they do."
Adrian Sutherland from Midnight Shine says the band is looking forward to developing the relationship, and seeing what can be done together. "We know that a music career takes a team effort, and we couldn't be happier with Ralph James and United Talent being on our team."
Also on the team is RoseAnna Schick of RAS Creative in Winnipeg, taking on the role of Midnight Shine's manager. Schick began working as the band's publicist in 2013, and their working relationship evolved organically to what it is today. "The guys in Midnight Shine have a ton of talent, dedication and determination. I can't wait to see how far they can go," says Schick.
Midnight Shine released sophomore album Northern Man in 2014 at Toronto's Hard Rock Café, kicking off with a national television appearance on Canada AM. Now, the band is ready to take their sound coast-to-coast.