Playing Mandolin Strikes A Chord With Me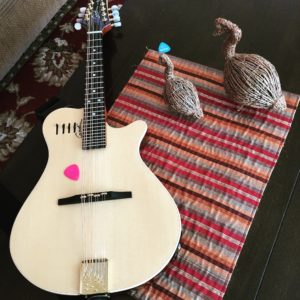 There has always been something about the sound of a mandolin that has interested me. Not sure what it is? It has eight strings and is tuned G, D, A, E. What you would call "fifths" if you know your music theory. The way the chords are produced is somewhat of a challenge because of it's tuning.
Growing up in Moose Factory with my parents, my sister Eva was the first one to get me a mandolin when I was about 12 years old. I'm not sure if it was a birthday or Christmas gift, but it doesn't matter now. What matters is that I liked it. I don't know what happened to the original, I think my late brother-in-law Gerry Barbeau took it home with the idea to fix it up. I did neglect it for a short time.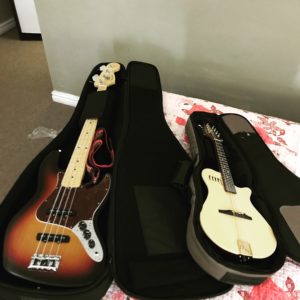 In high school, I really grew to like the sound of the mandolin after hearing the great John Paul Jones, bassist and keyboardist from Led Zeppelin, play it on Going to California. As well, I especially liked Jones's mandolin playing on Battle of Evermore from the Zeppelin four album. I remember I would lay on my bed listening to the way Jones would accompany Jimmy Page's awesome acoustic guitar playing on these songs. There is a real skill to being an accompaniest on the mandolin to other acoustic guitars and instruments. I think it takes a certain ability to know when to play, what notes to choose, and how to play them that embellishes a song in a particular way. It can be happy, sad, or dark.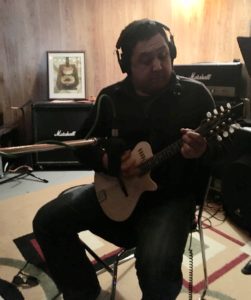 In terms of a band's identity, it was interesting for me to hear such a heavy rock band like Led Zeppelin play traditional English folk songs on acoustic guitars, mandolins, and harmonicas, and use various tunings. Their acoustic songs and sensitive, almost country-inflected style, always impressed me. In my mind, Led Zeppelin made playing acoustic instruments very cool! As well, I think as a musician, if you can show or use some of your other skills other than your main electric instruments, it is a worthy goal to pursue. So I have tried to incorporate some mandolin and acoustic guitar into some of our Midnight Shine live shows.
Today, I use a Godin mandolin and a Gibson Jumbo acoustic series guitar with another band that I play with in Moose Factory. The band is full electric with drums, but they also use mandolin, acoustic guitars, and a box-like cahone drum for quieter acoustic live shows. I'm learning more country-infused bluegrass style mandolin playing, as its never too late to learn new styles.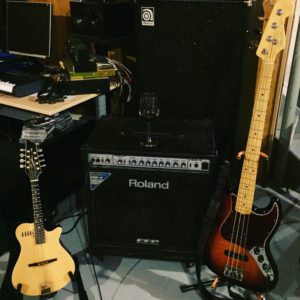 To me, the mandolin is still an important part of the instruments I own. In fact, if you had a chance to see it on youtube recently, you'll see me playing mandolin to James Bay with high school students from Delores D. Echum Composite School in Moose Factory, for the CBC Music Class Challenge.