Lacing Up For The JUNO Cup!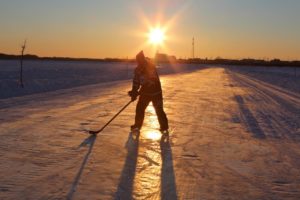 Hot off the heels of the release of his third album, Adrian Sutherland of Midnight Shine is traveling from one coast to another to join in on the annual celebrity hockey game in support of MusiCounts.
Sutherland, who hails from Attawapiskat in remote Northern Ontario, will lace-up alongside Canadian musicians including Jim Cuddy, Devin Cuddy, Sam Polley, Dallas Smith, Aaron Pritchett, Barney Bentall, Dustin Bentall, Craig Northey, Matt Sobb, and more, to take on former NHL greats like BJ MacDonald, Cliff Ronning, Dave Babych, Troy Crowder, and Kirk McLean, and Olympians Kaillie Humphries, Jill Saulnier, Natalie Spooner, and Rebecca Johnston, at the 15th JUNO Cup, presented by CBC Sports.
The puck drops at 7:30pm PT on Friday March 23, at Bill Copeland Sports Centre in Burnaby, BC. Individual tickets are $20 + fees, available at www.ticketmaster.ca. All proceeds from the JUNO Cup benefit MusiCounts, the music education charity associated with CARAS. Held annually during JUNO Week, this celebrity hockey game has raised $840,000 for MusiCounts over the last 14 years, which helps put instruments into the hands of kids who need them the most.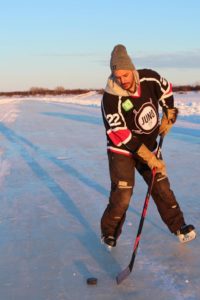 On Thursday March 22, Adrian will also sing a tune at the JUNO Cup Jam, where iconic artists and hockey legends playing in the JUNO Cup will entertain with an unforgettable night of musical collaborations and covers. Canada's most talented musicians will come together for this one-night performance at The Imperial in Vancouver (319 Main Street). Ticket proceeds also benefit MusiCounts.
INVITED BACK FOR SECOND YEAR
This year marks Sutherland's second JUNO Cup, and he's looking forward to returning. "I had a great time playing last year in Ottawa, and am happy that organizers invited me back to play again," says Sutherland. "Even though it's a long way from home, it's worth it to me, to be able to take part in the game."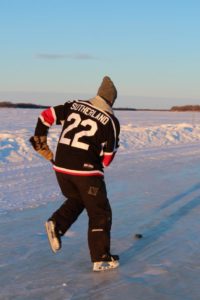 "Hockey has always been a passion of mine. For as long as I could remember, I wanted to be a hockey player, or a musician. So for me, JUNO Cup really is the best of both worlds."
Growing up in the isolated James Bay area, with no organized hockey leagues or formal instruction, he started playing hockey as a boy when the school in Attawapiskat collected donated gear from the "south" to give to kids in the community. He got "whatever he could grab" and began what would become a lifelong love affair with the game – teaching himself to play by reading books, watching videos, and practicing skating skills alone on his backyard rink.
Read more about Adrian's hockey journey, in his own words, in this blog post: http://midnightshineonline.com/good-ol-hockey-game/.