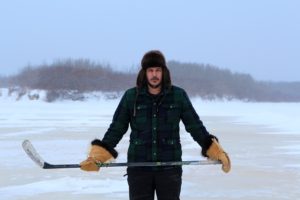 For as long as I can remember, hockey has been a passion of mine.
As a boy in Attawapiskat, I started playing hockey in net on the outdoor rink – I wasn't a good player and my skating was choppy, so I got thrown in net. The school would collect donated gear from the south and we each got what we could grab. My goalie pads were from the 60's era, old faded brown leather pads, a glove and blocker. I only had a flimsy back-catcher chest plate for protection, and recall feeling intense pain after blocking each shot. One day I decided to reinforce the plate with layers of tape and cardboard and that seemed to do the trick.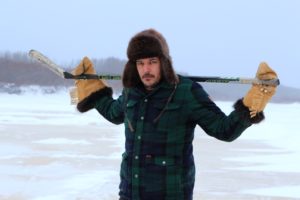 We shared the rink with the older boys and men, and once you were in full gear you weren't allowed to leave. The older boys would keep us in net, then the men would fire slapshots at us during their warm-ups. Then we'd stay in net for their game. By the end of the night my toes were numb from the cold -40 weather and my little body would be aching from all the shots. I'm not sure why I played in net all those years because I would describe the experience as painful! So my time in net was brief for obvious reasons!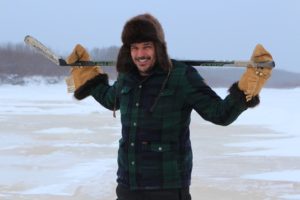 I later became a player, and spent most of my hockey years skating backwards on defense, with a brief stint as a winger. I swear I owned all the books on hockey instruction, hockey plays, mental toughness, training, conditioning, skating, it became an obsession. Any coaching I did get was from the parents, and it wasn't very organized. Most of the time all I could hear was yelling.
Because of my remote location (Attawapiskat is a fly-in community off the coast of James Bay) no opportunities ever came my way to play organized hockey, You'll be glad to know that I made it all the way to the Attawapiskat Bush League! I did play a few seasons in Hinton, Alberta, for the Hinton Heat in the NCHL Sr. AA League – the highlight of my hockey experience, I suppose. At the age of 32, I finally got to play competitive hockey for the first time.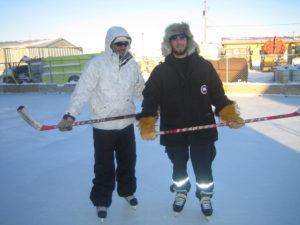 It wasn't easy getting my first taste of real hockey. I was nervous, because I'd never played contact before. The first game was much harder than I expected, and my heart was pounding when I was on the ice. I felt like I had no time to make a play. I got the snot knocked out of me that first game, but it was well worth it!
The coach was very encouraging, and had to keep reminding me that it's okay to bodycheck. Any free time I had, I'd go to the rink and practice. Playing indoors was a real pleasure! I wanted to improve my game, and feel like I was finally able to do that.
Today, I mostly play the odd pick-up game and tournament. My sons are not that interested in hockey, although my youngest is beginning to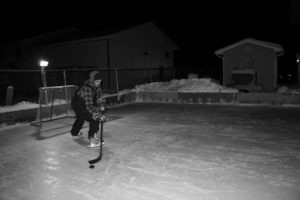 show more interest. One of my favourites things to do is stickhandle on the backyard rink. I've been doing that for years. It's a real stress reliever for me, and kind of therapeutic I'd say.
As for the JUNO Cup, I'm excited to be on the ice with other musicians, and former NHL players, and see how I measure up. It'll be a challenge I'm sure, but I think I'm ready for it.
NOTE: The JUNO Cup is an annual celebrity hockey match in support of MusiCounts. The puck drops at 7:30pm at TD Place in Ottawa, on Friday, March 31. Hope to see you there!