National TV: Indigenous Day Live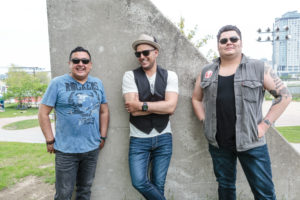 Catch Midnight Shine at Indigenous Day Live at The Forks, in celebration of Canada's first National Indigenous Peoples Day:
June 23 – Winnipeg MB
Indigenous Day Live Concert
7:30pm to 10:30pm
Televised live on APTN
Streamed live at aptn.ca
"We're excited to finally be performing in Winnipeg," says Midnight Shine frontman Adrian Sutherland, who hails from the isolated community of Attawapiskat in Northern Ontario.
"Our manager lives in Winnipeg, and our agent is originally from Winnipeg, so it feels like a bit of a homecoming for us. It's also known as a great music city, so we're looking forward to finally bringing our music to Winnipeg."
Midnight Shine will bring their music to all of Canada at the same time, too… with APTN broadcasting live from three cities on June 23 – Winnipeg, Ottawa, Toronto – for their Indigenous Day Live concert featuring Midnight Shine along with artists like Walk Off The Earth, William Prince, Logan Staats, Kardinal Offishall, Lido Pimienta, Tom Wilson, Julian Taylor Band, and more.
SUMMER SHOWS ON HORIZON
June 25 – Timmins ON
Stars and Thunder Festival
With Blue Rodeo and Colin James
June 27 – Webequie First Nation ON
Community Concert
July 1 – London ON
Trackside Music Festival
August 25 – Collingwood ON
Blue Mountain Village
September 8 – Vancouver BC
SKOOKUM Festival