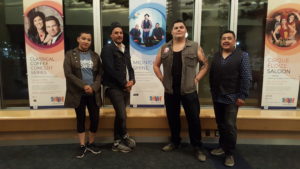 For the first time in over a year, Midnight Shine will be proudly touring as an all-Cree band.
Joining Adrian Sutherland (Attawapiskat First Nation), Stan Louttit (Moose Factory Cree Nation) and Zach Tomatuk (Moose Factory Cree Nation) is Charnelle Menow (Norway House Cree Nation).
A drummer and singer from Manitoba-based all-female rock band Drink Me Pretty, Charnelle will be backing Midnight Shine for the BC shows. It will be her third trip with the band – and her first time to the West Coast.