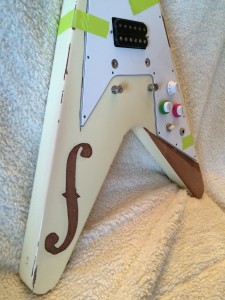 Exciting times lie ahead for Midnight Shine, and we are looking forward to what 2016 has in store.
Writing this post makes me realize how excited I am to be playing live with the band again. The four of us live in different towns in Northern Ontario, so it's difficult to get together and rehearse. We each have our own lives to live, with bills to pay, jobs to do, books to study, etc. But, whenever we do get together it feels like a breath of fresh air, one that differs from the 9-5 routine.
We've been trading song ideas and demos for some time. It helps keep us up-to-date with each other musically. This past summer, we debuted two new songs at The Big River show in Moose Factory. The songs were met by the crowd with great response and has only inspired us to keep moving forward. It felt good to play live and loud again. I live in an apartment building, so I never get to turn up the amp past 10 (insert Spinal Tap reference) without annoying my neighbours. Playing on stage and finding that sweet spot is a savoury time.
When writing new songs, I try to keep a live-performance mindset — will this riff get heads bobbing? Will people sing along to this melody? Will this beat have feet tapping? I believe that aside from the technical side of playing an instrument, you also have to practice writing songs as well. With Stan, Adrian and George by my side, I know that we will only get better. Here is to more songs and more stages.