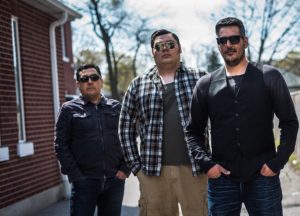 Not many bands play their very first show opening for legendary Canadian rockers. Then again, not many bands are quite like Midnight Shine.
When singer/songwriter Adrian Sutherland from Attawapiskat was invited to open for Trooper in Timmins in 2011, there was one condition: he couldn't perform solo. So Adrian pulled together three other known musicians from the James Bay region, and Midnight Shine was born.
Together, the members of Midnight Shine have a winning combination of energy, experience, and passion, and a distinct style that seamlessly blends roots, classic and modern rock. They've so far released two albums – Midnight Shine and Northern Man – that are making ever-widening ripples among fans, industry, and media, and creating an impressive and compelling sonic identity that is turning heads. They also caught the attention of Ralph James, one of Canada's most renowned booking agents, who knew right away that Midnight Shine has something special. Ralph is now one of their biggest supporters and industry champions.
Midnight Shine just wrapped their first-ever tour, which kicked off with Ottawa Bluesfest's main stage on closing night, opening for Peter Wolf and Tom Petty & The Heartbreakers. They played NAIG in Toronto and Hamilton, The Drum is Calling in Vancouver, Rock on the River in Timmins, and several other shows. They are currently working on their third studio album, after putting out new single Sister Love earlier this year.
Sister Love is an upbeat ballad sure to touch your soul, and a song that holds special meaning for Adrian Sutherland: "It's about trying to free yourself from the burdens and struggles we sometimes have to carry. When we get stuck in a hard place, it would be nice to go back to those days when life was simple. In our thoughts we can go there, and be in that good place again, even just for a moment." Also special to Adrian is the fact he co-wrote Sister Love with his sister Iris.
Midnight Shine is anchored by Sutherland's eloquent lyrics, captivating vocals, and charismatic personality. Setting them apart from other rock bands is the exploration of Cree culture, tradition, and life in the North. Hailing from the remote community of Attawapiskat, Sutherland's experiences are reflected in the songs he writes – making Midnight Shine's music all the more meaningful, while at the same time, universal.
In addition to making contemporary music, Sutherland – who is fluent in his native language – is a traditional knowledge keeper of the Mushkegowuk Cree, sings pow wow, participates in spring and fall harvests, and is a genuine example of someone who lives authentically. He is a father, grandfather, hard-working husband, and cultural leader, proud of who he is, and where he comes from. He is an inspiration to people all over the north, and a true role model who brings hope to people in places where they sometimes have a hard time finding hope.
While Adrian's home has been the subject of negative media attention in the past, he would like to change those perceptions: "There are many good stories to be told from Attawapiskat, and from all over the North. I hope we're one of them."
Midnight Shine… a 'must-hear' band you'll take a real shine to.
"One foot in the past, one in the here and now…"
— Northern Man by Midnight Shine